Bachelor of Pharmacy class of 2021 took professional oath virtually
The Pharmaceutical Society of Kenya (PSK) hosted a virtual Professional Oath ceremony for the MKU Bachelor of Pharmacy Class of 2021 on Wednesday 28th July 2021.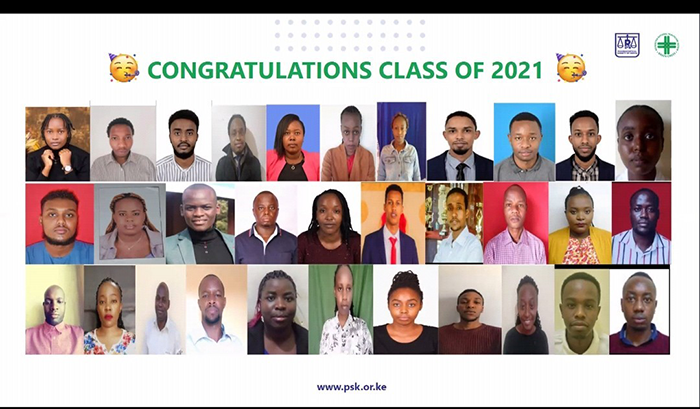 The 33 graduands were joined by the faculty of the School of Pharmacy as they were taken through the Oath by the PSK Fellow Prof. Jennifer Orwa. Before conducting the Pharmacy Oath, the distinguished PSK Fellow gave the graduands a mentorship session on the principles of healthcare ethics which they will be expected to adhere to as they begin their practice as Pharmacists.
The Oathing Ceremony was also graced by Dr. Wilfred Ochieng, the Director of Pharmacy Practice at the Pharmacy and Poisons Board (PPB). Dr. Ochieng informed the graduands that they will be undertaking their PPB Stage 1 Pharmacists Registration Examinations in September 2021 after which they will then be sent for their one year Internship.
He advised the graduands to adapt to the rapidly evolving Pharmacy Practice once they get into the field of practice. The CEO of the Pharmaceutical Society of Kenya, Dr. Daniella Munene reminded the graduands to abide to the code of conduct for Pharmacists and invited them to join the society which would provide an opportunity for mentorship into the profession.
Pharmaceutical Society of Kenya awarded best MKU Bachelor of Pharmacy Student
After the graduands had taken the professional oath, the Best Bachelor of Pharmacy Student of the MKU Class of 2021, Stephen Onyango Orao was honoured by the Pharmaceutical Society of Kenya through their CEO, Dr Daniella Munene who presented the PSK Best Student Award Cheque of Ksh 10,000.