MKU and Microsoft start an education transformation journey
Microsoft has rolled out a programme to promote the use of technology to improve teaching in institutions of higher learning.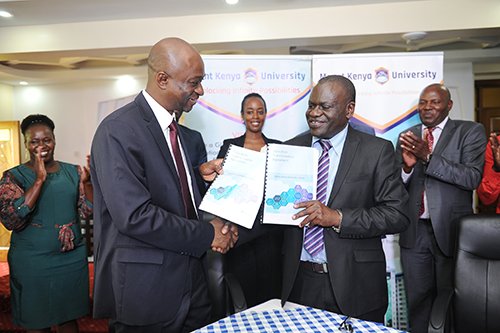 Speaking during the signing of the partnership with Mount Kenya University (MKU) last week, Vice President of Worldwide Education at Microsoft Corporation Anthony Salcito said that the programme being rolled out would ready students and staff for the job market due to technological advancements.
"The Microsoft education transformation agreement will act as the implementation or execution template for an all-inclusive public and private partnerships to improve teaching and learning in the country," he noted.
The arrangement will, according to its purpose, boost the confidence levels of professionals ready for the next wave of digital evolution in data science, artificial intelligence, software and hardware application development and even health, arts and social sciences.
This comes at a time when several universities are on the receiving end, blamed for offering low quality services and churning half-baked graduates.
In its implementation strategy, institutions will provide nominees who will be trained by experts from Microsoft. After acquiring the skills, the trainees will be given the mandate to train others and help bridge the gaps existing in the production of employable graduates and entrepreneurs into the job market.
MKU Vice-Chancellor Prof Stanley Waudo said the programme would help improve the institution's open distance and e-learning programmes as well as regular and self-sponsored programmes for its student population of more than 16,000.