MKU Foundation & Partners for Care Donate Mobility Carts
MKU Foundation (MKU-F) in partnership with Partners for Care(PFC) on Friday, 17th January, 2020  donated six (6) mobility carts at Mount Kenya University, Main Campus Thika, Chancellors Towers Grounds,
The six beneficiaries (2 children and 4 adults) who reside in Thika and its environs, were identified by members of the MKU-PFC Joint Steering Committee that is chaired by the Director, MKU Foundation Dr. Peter Kirira. The beneficiaries of the mobility carts were:
Grace Njoki Njumbe – Muranga County
Richard Ndungu – Thika, Kiambu County
Joseph Mburi – Thika, Kiambu County
Peter Mutua – Thika, Kiambu County
Joseph Muthama – Thika, Kiambu County
 Peter Ngugi – Thika, Kiambu County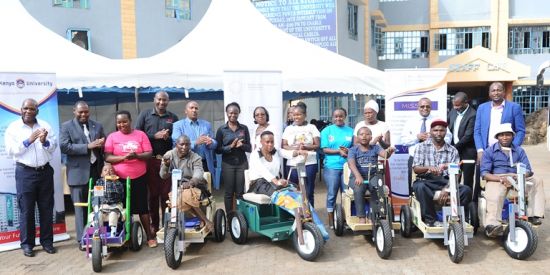 Mount Kenya University Foundation and Partners for Care during presentation of mobility Carts to beneficiaries with disabilities.
The function was graced by Mr. George Wanyoike, Welfare Officer, County Government of Kiambu who applauded the efforts of the course and encouraged the stakeholders to involve the County Government in future undertakings of the kind.
Ms. Daisy Waithera – Disability Officer, National Council for Persons with Disability (NCPWD), Kiambu Regional Office, who also attended the function encouraged members present to assist persons living with disability in the communities that they reside in to register with NCPWD to enable them access other services available to them.
Mount Kenya University Acting Vice-Chancellor,  who was at the function accompanied by other member of Staff, applauded the partnership between MKU and Partners for Care and encouraged people to embrace community social responsibility  at individual and institutional levels