MKU Receives Visitors from Yunus Center and Energizes the Partnership
Mount Kenya University received three visitors from Yunus Business Centre on Friday, 30th September, 2022. The three were Zeenat Islam, Program Manager (Yunus Center), Shihab Quader, International Head of Projects (Yunus Center) and Robert Akoko, East Africa Yunus Center Contact and Project Coordinator (YYF- Kenya). The discussion between the visiting delegates and MKU team touched on possible:
Modalities of engaging in future on Yunus Conferences and Research activities.
Possible Community based activities.
The delegates held a meeting with the Vice-Chancellor on matters relating to MKU-Yunus Center partnership were discussed in fine details. Following MKU's very successfully hosted Yunus Center driven conferences in November 2021.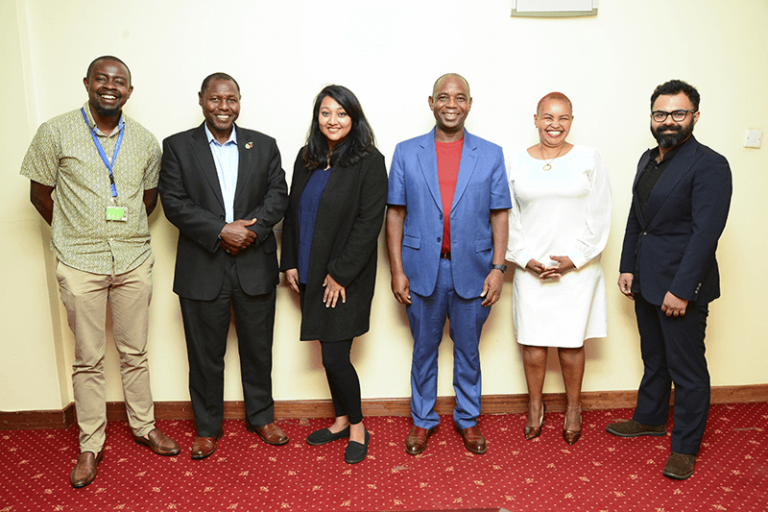 The visiting guests also had a round table meeting with a number of MKU Staff representing various process owners. These included:
Dr. Peter Kirira – AG. Deputy Vice-Chancellor APIA
Prof. Peter Wanderi – Principal, Corporate Services and Communication
Prof. Kennedy Mutundu – Senior Lecturer, School of Social Sciences
Dr. Mary Mugwe Chui – Senior Lecturer
As a starting point in the re-energized partnership MKU team was invited to register for the Social Business Academia Forum(SBAF) in Turin, Italy and other Webinars hosted by Yunus Center. A call to students and staff to participate Social Fiction Challenge and 3 Zero Clubs was also provided and has been circulated.
MKU signed an MOU with the Yunus Center dated 24th September, 2021. This MOU gave MKU the mandate to host a Yunus Social Business Center (YSBC) and joined the Global Network of Yunus Social Business Centers. A Yunus SBC is mandated to propagate the Yunus Center's mandate through teaching, research, volunteerism and similar activities.