Tribute to H.E Daniel Toroitich Arap Moi
Dear Mzee Moi,
You shone light on the sceptre of higher education in Kenya. Now that you are gone, we as a University have lost a friend, and we as a country have lost a leader, your name will linger through the lives of millions of students who reaped from your vision. As a friend of the University, you nurtured the University under this vision to become one of the key providers of higher education in Kenya.
We will forever treasure you for promotion of education through establishment of primary and secondary schools. You reversed the trends where Kenyans were looking for education in foreign countries due to limited opportunities in Kenya. You facilitated the establishment of both public and private colleges and universities hence increased access to quality education benefiting many Kenyans.
Condolences to the family, friends and all Kenyans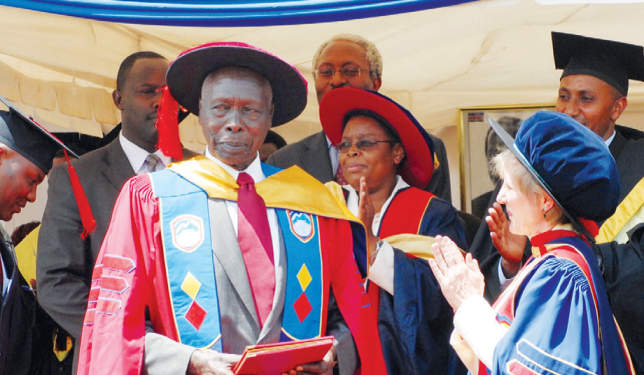 His Excellency the late Daniel Toroitich arap Moi, second President of the Republic of Kenya receiving an Honorary Degree; Doctor of Education for his contribution to education in Kenya. The occasion was Mount Kenya University's inaugural Graduation Ceremony, 2009, where he was the Chief Guest