University eyes partnership with photography agency
Mount Kenya University is eyeing a photography partnership with Photo Journalists Association of Kenya to strengthen media studies in the institution.
Speaking at the Kenya Press Photo Awards Gala on Saturday, MKU Principal Corporate Services Peter Wanderi said the institution was evaluating the possibility of partnering with the association.
Wanderi said the collaborative project seeks to develop better skills and nurture new talents to help universities generate employable graduates.
"We are ready to sign an MOU with the association. It is always good to have a university walk along with you as a knowledge partner," he said.
He also challenged photographers to be on the lookout for opportunities as they grow their personal careers and also grow into job creators.
"Opportunities are available but we have not been able to exploit them. As an association, you can be able to exploit these opportunities. In as much as there are opportunities, let us be ready to face the dangers. These include the danger of unemployment. I call upon you to reflect on the government's Big Four Agenda and such other development agenda at the national, regional and global levels to deal with the danger of unemployment in Kenya," he told the photographers.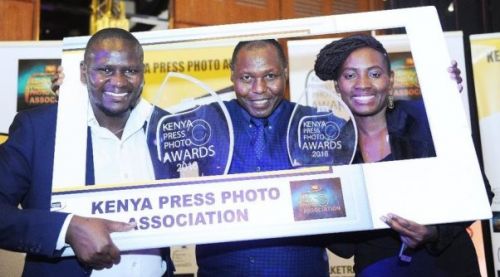 Mount Kenya University director Peter wanderi (center) honours Kenya Press Photo Awards winners Monica Njeri and Jeff Angote
Meanwhile, Photo Journalists Association of Kenya (PAK), says they are engaging lawyers to make both companies and individuals that have been using the association's work without approvals pay.
They said the unlicensed use of their pictures, whose access has been enhanced by the Internet, is not limited to individual Kenyans posting to their social media walls but corporate in their marketing and advertising campaigns.
This is despite many companies having legal departments that should be advising on use of such works belonging to other entities.
"(Unlicensed) stock photography on the internet has become a big field where people will use photos without approval from different photographers. We are trying to see how we can work with lawyers and have people using such photos pay. In the coming few months, we will be working with copyright lawyers to ensure that people do not take advantage of our photography," PAK President Thomas Mukoya said.