Varsity welcomes new students who are abled-differently
Mount Kenya University (MKU) held a welcoming mentorship ceremony for new students abled differently on Thursday 14 October 2021 at the University's main campus Thika. Students joined the university this year during the September intake, some from the government placement and self-sponsored to pursue various courses.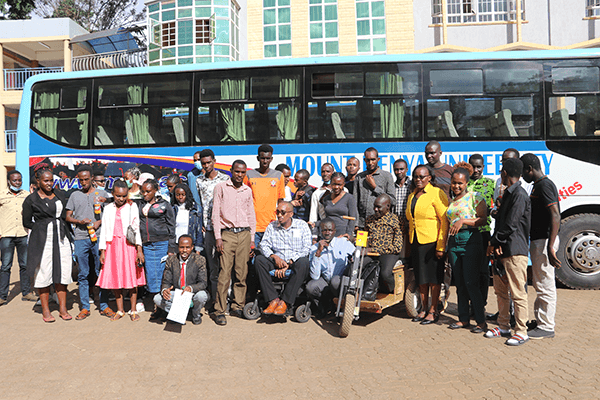 Theme of the event this year was: "Building an inclusive institution that caters for the needs of every individual" University has been previously recognized by United Nations Academic Impact (UNAI) as institution of higher learning on the implementation of its SDG Hub 10 on Reduced Inequalities. UNAI is an initiative that aligns institutions of higher education with the United Nations in supporting and contributing to the realization of United Nations goals and mandates, including the promotion and protection of human rights, access to education, sustainability and conflict resolution.
Addressing the students MKU Co-Founder Dr. Jane Nyutu congratulated the students for selecting MKU as the University of their choice to advance their career growth. Dr. Jane assured the students of the university's commitment to delivering quality services to all students. She urged the abled differently students to mingle with everyone in the institution to improve their social skills, work hard in their studies to advance their academic excellence.
Having acquired a physical disability in his early twenties, Mr. Elly Munoru, an entrepreneur and a disability crusader was the guest speaker at the event. Mr. Munoru was keen to offer hope, having learned to overcome adversity as a person living with a disability. He spoke about the denial attitude, which he said is the biggest problem people with disabilities are dealing with.
Mr. Munoru who is also the board member of the Network of Transformed Thinkers (NETT Kenya), an organization that offers hope to street families, destitute and Persons' with disabilities encouraged the young learners to embrace their disability as part of self-awareness. He educated students on mastering emotional intelligence, which will help them learn to navigate through different challenges during their academic and life journey.
He sensitized the abled differently students of the many opportunities available for them nationally and globally. He however encouraged the students not to take advantage of their physical limitations to hurt others. "I want you to know the importance of stepping out of your comfort zone, be alive, seek mentorship, be significant and stand out." Mr. Munoru said.
Echoing Dr. Jane's Sentiment on social interaction, the MKU Abled-Differently Students Coordinator Dr. Serah Muchai, who is also the Dean in School of Social Sciences, advised the students on the importance of individual social interaction with other students in the University to maximize their potential and self-awareness. She observed that sometimes people create a limiting attitude towards themselves, equating this to self-discrimination.
Because you have a physical disability, it doesn't mean you're a below-average student, Dr. Serah said,
Securing your university education journey at MKU is prove enough you can do what you set your mind to. She noted many successful stories of abled differently students within the University, including the current MKUSA Chair Bill Kaunda.
MKU Academic Registrar Dr. Ronald Maathai encouraged the students not to be afraid to speak out about any challenge that they might be facing. Dr. Maathai spoke of the University's commitment to creating all rounded enabling environment for academic excellence. He said the university is keen to eliminate challenges that might impend academics in all MKU campuses, in an effort geared towards creating a serene study and research environment while ensuring students' comfort.
Dr. Maathai said the university has employed sign language interpreters to help students with hearing problems to go about their academic uninterrupted.
The University, through the dean of students, recognized the role of the County government of Kiambu for improving the welfare of abled differently students through donating personalized equipment.
Mr. Owuor University Dean of Students thanked the Kilimanjaro Liners for coming on board with a helping hand to visually impaired students with the provision of orbit readers, which he said, would reduce overreliance of braille by students and the directorate of exams.
Mr. Owuor said time was ripe to reveal the Student governing body (MKUSA) Constitution to ensure inclusivity. He appreciated the role abled-differently Alumni play for referring others at the institution noting that the university has admitted the four students with hearing impairment into the regular program. My Owuor urged the new students not to underestimate their abilities.
The Mount Kenya University Student Council (MKUSA) Chair Mr. Bill Kaunda thanked the university Management for ensuring equal opportunity for all students, a statement echoed by the Special Needs chairperson Mr. Joseph Owino, noting the easy accessibility of lecturer halls, commodes and social facilities by people abled differently. Mr. Owino called for the installation of more lamps and lifts in all buildings.
Mr. Kaunda emphasized the importance of continuing to live in unity and loving each other as an MKU fraternity, which he said has enriched unity in the institution.
Mount Kenya University continues to churn out inclusivity-enlightened students through some of its programs such as Bachelor's programs in Development Studies, Community Development, Social Work and Administration-the latter aimed to address issues on disabilities and inclusion. Master's programs include Special Needs Education, Development Studies, Environmental Security and Sustainable Development, as well as Gender Studies.
Article by: Koome Ikunyua || Grace Ngure