What MKU is doing to make its ODEL programme bigger, better, smarter
Mount Kenya University (MKU) has broadened the scope of its Open, Distance and Electronic Learning (ODEL) to include distance learning (pure online) and Distance and Institutional Based Learning (DIBL).
The university is responding to the growing interest in alternate approaches to distance learning. The option of converging distance and on-site studies is one such response.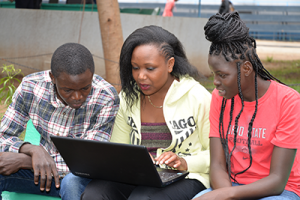 MKU aims to enable thousands of professionals to conveniently access higher education even as they attend to work and other commitments, says ODEL Principal-designate Susan Nyokabi.
"With ODEL, we bring learning to the people. Anyone with an electronic gadget that has internet connectivity – smart phone, computer, laptop or tablet – should be able to access higher education," she asserts.
In August 2017, the university beefed up the ODEL directorate, which has since lined up several initiatives to enable many more qualified students pursue higher education.
The DIBL option is a key component of ODEL. At MKU, DIBL is headed by Prof Pamela Ochieng. The programme directly supports the university's School of Education by training teachers face-to-face during holidays and online when school terms are in session. Thirty per cent of learning is through face-to-face and 70 per cent is via the online platform.
Ms Nyokabi says the university is equipping ODEL lecturers to facilitate video lectures, Skype and video conferencing. It is also improving its website to make it more interactive so that learners are able to apply, register, pay fees, communicate with their lecturers and receive feedback more easily and effectively.
The ODEL head expresses optimism that progressively, the university will have significantly transformed the ODEL platform to be of greater benefit to its students.
"We want to enhance service delivery so as to reduce complaints," she adds, indicating that the university plans to achieve this through timely resolution of students' queries.
Ms Nyokabi reveals that ODEL has started a tracking system to establish the status of each student's email and resolve any reported incidents.
Two mobile phone lines have been set aside to serve ODEL students who need immediate feedback on their concerns. These lines are: 0702041042 and 0724205417. A third line will be introduced.
Further, the university is improving the website to make it friendlier and to allow users quick access to all relevant information.
The university uses the Sakai system, considered one of the best electronic learning platforms.
A server dedicated to the students' portal has been put in place to ensure students enjoy smooth interactions with the learning platform, says Ms Nyokabi.
A review of the modules to improve quality, enrich content and capture new changes wrought by modern technology and evolving trends is ongoing.
The ODEL modules are developed in line with the MKU curricula that are approved by the Commission for University Education (CUE).
The university plans also to increase the number of ODEL degree programmes (Bachelors and postgraduate) from the current 33 to 48 within the next one year. This is as it decentralises ODEL services to all campuses, so that students are not served only from the main campus in Thika.
"Students can then choose an examination centre closest to them. Diaspora students sit examinations at the Kenyan embassy in their respective countries. Locally, they can choose an MKU campus or a centre they can access conveniently," Ms Nyokabi adds.
Besides a dedicated team at the Directorate of ODEL, MKU has strong academic schools and departments that provide mentorship, guidance and support to ODEL students.