CSAK receives book donation
Prof. Kjell Tveter has donated two sets of books titled The Majesty and Mystery of Life and  The Little  Book of CREATION to CSAK office which have been distributed to all delegates, copies of this books will be available in the CSAK resource centre
Prof. Kjell was a  keynote presenter during the CSAK regional Workshop which was held at Ruiru Rainbow Hotel. Read More about the Workshop
Who is Prof. Kjell Tveter?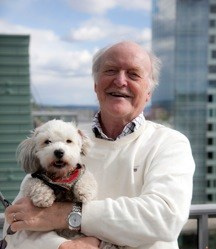 Prof. Tveter is a Norwegian surgeon with vast experience of many decades. In his early years of clinical practice, he served for one year in Africa, at a missionary hospital in the province of Kivu, Congo. Prof. Tveter did pioneer research work on the prostate, leading to his Ph.D. He has been a professor of urology and general surgery for 23 years in Norway, and head of the Urological Department at various leading university hospitals. He has been teaching medical students, nurses, and mentoring colleagues to their academic thesis, and has had various engagements in the US universities as Visiting Professor.
Prof. Tveter has a Christian worldview. He has dedicated his retirement life to studying Human Origins. He has spent some thousand hours, reading books and working. He is the author of four books (in Norwegian).