MKU Signs MoU to Launch VMware IT Academy
Mount Kenya University Vice-Chancellor Prof. Stanley Waudo on Thursday August 15, 2019 hosted Mr. Thomas MacKay the Sr. Director, Global Strategic Programs; Worldwide Readiness, Assessment, Certification, & Enablement (WWRACE) accompanied by Ms. Everline Wangu Kamau-Migwi, the Channel Lead – East Africa and Virtualize Africa Program Manager, in his office. The Vice-Chancellor during that occasion also presided-over the signing of the MOU between Mount Kenya University and VMware, Inc.
The MOU allows the university to mount the VMware IT Academy. The VMware IT Academy program is a global network of approved colleges and universities that provide students access to high quality educational content, certification potential, and experience with VMware technologies used by 97% of the Fortune Global 500 companies and 500,000+ customers world-wide.
Prof. Stanley W. Waudo applauded the fact that the VMware IT Academy is available to Mount Kenya University Students, staff and MKU Almuni who will enjoy the training at no cost. Mount Kenya University has meet all the requirements from VMware Inc., to launch the IT academy, and from September 2019 trainings will begin.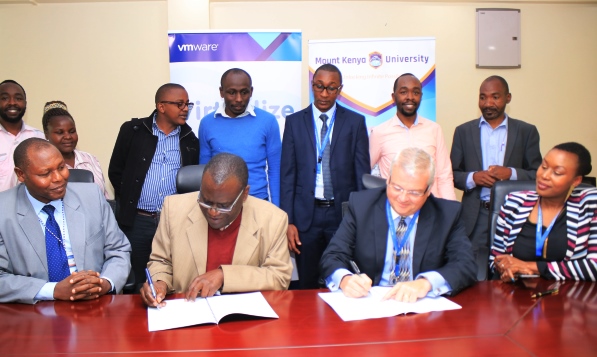 In his own words Mr. Thomas MacKay said "This is the first university I have toured in Kenya and am impressed by the efforts put in place by MKU to ensure a successful VMware IT Academy." The academy will enable MKU in building knowledge and skills enabling the workforce of the future. The main benefits in becoming a VMware IT academy is access to free courses and faculty resources, free software licenses for academic use, certification vouchers, Online and offline materials enabling learning and teaching to mention but a few.