Service and Support to persons with disability within MKU community
Allow me to quote the words of the renowned French existentialist philosopher madam Simone de Beauvoir who said that one's life has value so long as one attributes value to the life of others, by means of love, friendship, indignation and compassion.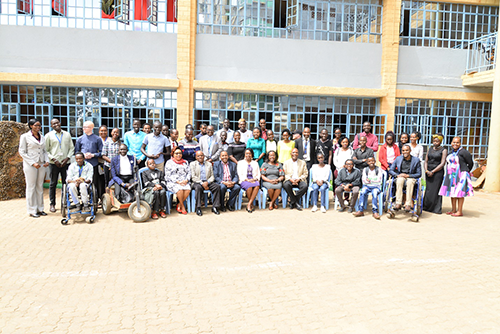 My experience as coordinator in charge of the docket that takes care of students living with disabilities at Mount Kenya University has made me realize that it takes a fearless and an overcoming spirit for a child to transit from primary, secondary and eventually to the university. It calls for one to overcome all odds, stereotypes, rejection, insults, and nicknames just to mention a few.
Any child abled differently that has completed their primary course is a hero. I am sure while young; most of us have ever been in an environment with a physically disabled person. How did we treat them? How were they treated by others? Just to take a case study of physically or partial visual impaired, we would touch the child and then run away and ask "who has touched you?" seeing that they could not comprehend a thing, we could burst into laughter full of ridicule. For those who had speech challenges, we would try to imitate them as they speak.
This cannot be repeated now at our level though it could be happening elsewhere due to ignorance. Having to overcome all those challenges regardless of how many years it has taken them to get to the university, allow me to call it an ACHIEVEMENT.
I salute the parents of children abled differently. I also salute parents with physically disabled children because I have first-hand experience dealing with my daughter. They say every human being has untold stories – I do—My 21-year old daughter suffers cerebral palsy as a result of a complication due to midwife's negligence as he was asleep during my delivery. Like any other parent, I was bitter and wanted to spend the rest of my life blaming someone—we all do. However, I choose a brave step, accepting the things I cannot change, changing what I can and above all seeking God to provide me knowledge to differentiate the two. My source of inspiration was based on the fact that Gods blessings add no sorrow in our lives. Today I attest God's grace has been sufficient. The test has become a testimony; a platform that has made me a mother to many children abled differently within our institution. I am forever grateful to the university for recognizing my ability and passion to serve students who are physically disabled.
I urge the MKU fraternity to offer their maximum support to our students abled differently. The disability of our students ranges from physical impairment, visual impairment, hearing impairment and others have multiple impairment. All the above mentioned have not made our students lesser students. They have what it takes to competitively win the scarce opportunities available given the right and conducive environment of learning. In the Spirit of unlocking infinite possibilities, I continue to urge all my colleagues and our students to give equal opportunities whenever called upon.
HOW THE MKU COMMUNITY SUPPORT DIFFERENTLY-ABLED STUDENTS
Allowing the students with disability be served first in the offices that requires students to queue.
Giving the students first priority when they need to access lifts in the university premises.
Supporting them when they are climbing the staircases especially for those with visual and physical disability.
Allowing the visually- impaired students who use braille machines to sit in front of the class
Getting chairs ready for students especially those using braille machines and those using wheelchairs who are unable to move.
Paving the way for students especially for those with visual and physical impairment more so those on wheelchair and those using crutches
The security should serve the students with disability first when they seek to gain access to the institution so that they are not strained.
The roommates of students with visual impairment should assist them in performing some chores like washing clothes.
The catering staff should allow the normal students to serve food to the students with disability
The security should ensure that the lifts are opened in advance so that students who can only use them are not inconvenienced
The lecturers and class representatives should ensure that the students who are in need of extra support are assisted and made comfortable while in class.
Staff and visitors who are abled differently are also considered in the inclusion in service delivery.
The university has invested in necessary infrastructure and policies to support the differently abled persons and accord them equal opportunities.
Article By:
Dr. Serah Kimaru
MKU Coordinator Persons with Disability
Ag. Dean School of Social Sciences