Studying medicine at MKU: Pioneer students share their memories, views and experiences
The first students of medicine at Mount Kenya University (MKU) are due to graduate at the end of this year. By then, they will have walked an intense six-year journey of training, mentorship and exposure. Three of them share their candid views and experiences in the following excerpts. They all joined MKU in September 2014 in the Bachelor of Medicine and Bachelor of Surgery programme. Read on…
You are among the pioneer medical students at MKU. Why did you choose MKU when you could have joined other established universities back then?
LYNN: Choosing MKU was a decision I made under the guidance of my parents. One, it being a private university, service delivery was guaranteed. Two, I knew this was where I'd get quality education because of a lesser number of students, therefore increasing the interactions with my lecturers.
MICHELLE: Initially, I had picked the University of Nairobi as my first choice, but I was not selected to join the university even after applying for the parallel programme. That was despite my good grades. Throughout my life, I had set my eyes on studying medicine, so when I heard that MKU was offering the course, I could not let the opportunity pass. Six years down the line, here we are!
SALIM: Immediately after being informed that MKU was offering this programme for the first time, I made the decision to apply for it in view that the programme was accredited by the medical practitioners and dentist board. To me, this meant MKU had the capacity and was equally competitive with other established universities offering the same programme. Therefore, I was confident that at completion of the programme, I would be a highly skilled graduate as well. So, I was willing and eager to take that chance and fulfil my dream career.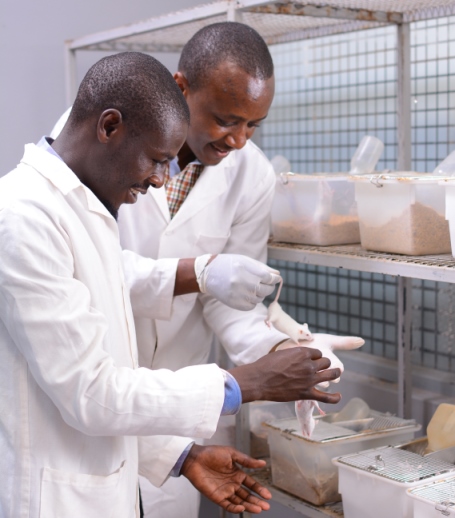 Kindly describe your MKU journey: how you view the training, your memorable moments, etc.
LYNN: Our training is intense, but with the support from my colleagues and lecturers, it's manageable. My training here over the last five years has had such a great impact on me socially, personally and career-wise. This is the part of my life journey which I can't forget because here, I met another family and they accepted me. I wouldn't be who I am today if I hadn't joined this specific medical school.
MICHELLE: Undoubtedly, the journey has not been without ups and downs because nothing can really prepare you for the rollercoaster that is medical school in general. I have painstakingly learnt how to strike a balance between my academic and social life. This is quite critical.
The training we receive can only be characterised as stellar. Our school boasts a vibrant and relatively young academic staff who are particular about content delivery. Our small class size at every level also allows a more intimate interaction with the lecturers. The school has further gone the extra mile to ensure we have modern infrastructure. Also, through its various partnerships, there are myriad opportunities for exploitation.
There have been many memorable moments: the thrill of dissecting my first cadaver, the anxiety of sitting for my first viva exam, and the goose bumps that come with waiting for the release of every end of year results! The highlight, however, was when I got the opportunity to represent my local Young Professionals Chronic Disease Network (YPCDN) chapter in Kigali for a leadership workshop.
SALIM: My MKU journey has been nothing short of satisfactory. Since beginning of the training in First Year, I have managed to learn a lot in terms of theoretical knowledge, research and practical skills that are essential in enabling me to provide quality health service in the society.
Throughout the training, we've managed to build a strong cohesive team, which enables us to participate smoothly and wholly in day-to-day activities. In addition, the multicultural diversity among us makes the med school even more interesting.
Med school, in general comes with a lot of responsibilities and obligations as the course is demanding and requires a substantial amount of studying. Initially, this used to affect my social life but with time and with a conducive learning environment and support from both the staff and colleagues, I've learnt to adapt accordingly, making the journey relatively smooth.
How I view the training? I find it very productive and engaging. Furthermore, we have adequate infrastructure – the state of the art science laboratory and a modern anatomy lab/funeral home at Thika Level 5 hospital, in addition to staff who are well trained and very motivated to impart knowledge and skills on us. The curriculum is also designed in a way that you gain knowledge and skills in a smooth and systematic manner.
Memorable moments? There are many of these in my journey as a med student, but among the notable ones is cadaver dissection during the first 2 years in the training. Cadaver dissection is a medical rite of passage among the med students. The dissection sessions initially encompassed feelings of frustration, nausea and awe to, as time passed, exhilaration and the desire to study more. It was very educative and a real character builder.
Recently, MKU was declared the best in medical training in Kenya. What was your reaction and that of your colleagues?
LYNN: We were glad that the board viewed us as the best despite the country having other giant medical schools.
MICHELLE: Personally, I was over the moon! I had always been confident in the school's mode of operation and I was glad that the board found that to be true. My colleagues were equally overjoyed about the news.
SALIM: I was so delighted and so were my colleagues. We always knew that we were among the best in the region but did not really expect to clinch the top position. It was very encouraging to see a change in the status quo with us taking the lead. Everyone was impressed and happy about that news and this gives us even more reason to work harder to maintain and set a new bar.
You probably have friends in other universities undertaking a similar course. When you compare notes, what are the main issues that emerge?
LYNN: The curriculum is pretty much the same. However, the difference comes during the clinicals. You find that our school has more of one-on-one teaching. We attend the ward-rounds with our lecturers and we have additional bedside teachings. And given the number of students per rotation, we have highly interactive sessions.
MICHELLE: What sets us apart from students in other universities is mostly our lecturer-to-students ratio as well as the time taken to complete the coursework. It is no secret that our colleagues in public universities are forced to spend more time than they should due to the occasional lecturers' industrial actions.
SALIM: We are generally fewer in number in comparison to the others and this is beneficial as we get maximum attention from teachers and staff. The other observation I have made is with regards to the student and teacher class attendance, which is done digitally in our school in comparison to the other schools. Lastly, students from other institutions tend to spend more years in school owing to strikes that sometimes paralyse their curriculum.
Should all work well, you would be set to graduate in December. What are your career aspirations?
LYNN: During interactions with our lectures, they've always advised us to specialise as early as possible. Therefore, the longest I plan on being a medical officer is 2 years. So far, I have thought of becoming a neuro-physician or cardio-physician. The future will tell.
MICHELLE: After my internship, I plan to immediately pursue my Masters in Public Health, where I would like to be an expert in policy formulation and learn how to effectively manage and strengthen health systems across the continent.
SALIM: I am so eager to practice and help patients and the society in general, in the region and beyond. My hope is that I'll specialise into my favourite field even sooner after I graduate in order to provide even better services to the society.
What is your advice to prospective and the current MKU medical students?
LYNN: To work hard, for this is a place of prosperity. And to current students, they should continue working hard and remember to pull up each other.
MICHELLE: My advice to prospective MKU students is to just do it! MKU is the best; tried and tested. To the current students, I advise that as much as medical school is the main focus, it, like other things, is fleeting and they should pay attention to their mental health.
SALIM: Advice to prospective med students: I would like to encourage them to take the step and join MKU med school in order to get quality training to achieve their dreams and ambitions.
Advice to my colleagues: I would like to thank them for their patience, hard work and teamwork and also encourage them to work even harder in order to be the best of the best.