Varsity adopts Ministry of ICT, Innovation and Youth Affairs Project Ajira Digital Skills training to benefit the students
Ajira Digital Skills programme is a Government of Kenya, Ministry of ICT, Innovation and Youth Affairs Project. It is funded by MasterCard and implemented by eMobilis Technologies Limited. The goal is to train youth in support for gainful online job. The Directorate of Career and Alumni Services in partnership with emobilis an appointee of the Ministry of ICT, Innovation and Youth Affairs has been training students Digital Soft Skills for online jobs to our interest students. Since May 2021, a total of 590 students have successfully completed the trainings. Earlier eMobilis had worked with Mount Kenya University to provide Google Digital Skills.
Trainings
The training has both online and physical versions, each with unique advantages and challenges.
Before training, students are requested to pre-register to indicate their preferred module of interest to study. This Captures the basic biodata for logistical planning whether online or physical. Later the students are required to register in the Ajira Digital portal that links then to the national registration data which is linked to National ID Numbers.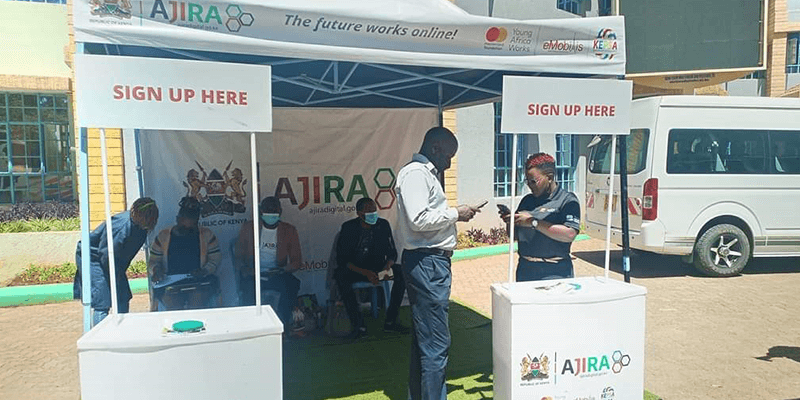 After the two-day training, students are given 3 hours per week online mentorship for five weeks
The training has 5 modules to choose from and a student can undertake any of their choice in favour of the digital work area that/they wish to do online. However, a student willing to take all the 5 modules can only schedule one at a time. The modules are: Data entry Management, Virtual Assistant, Transcription, Digital marketing/Commerce and Content writing. Mount Kenya University is a proud partner in training its students.
About 600 students have managed to successfully complete various modules and they are already working as evidenced  by one of the students, Ismail Chimera
Benefits of the training to the students
i. Students are able to gain use of technology –based on the various areas of study.
ii. Students are able to gain communication skills for business
iii. Students are able to carry out business research
iv. Student are able to gain leadership skills
v. Personal planning and organization
vi. Collaboration and Partnership
vii. Income source for the student especially those who are needy
viii. Value addition to the overall Curriculum Vitae for future employability
Mount Kenya University Ajira Club
The Ajira Club is a strategy towards creating a movement and support community for the trainees and the online workers. it is helping those who are yet to be successful in bidding for the online jobs after training to actualize their dreams.
The Ajira Club was established last year November 2021 and it is now registered by the office of the Dean of Students. The club members have participated in various events for the online workers, Most recent, on 28th January 2021 there was an interaction forum at Jomo Kenyatta University of Agriculture and Technology for the online worker.
All Mount Kenya University campuses have been mandated to work closely with Ajira partnership team in their respective counties through the Directorate of Career and Alumni Services.
Article by: Afubwa Musumi, Director Career and Alumni Services