Varsity holds 19th Graduation Ceremony
Mount Kenya University (MKU) on Friday, August 6 graduated over 6500 students in a glamorous virtual event from Graduation Pavilion Grounds at Happy Valley in Thika, Kiambu County.
The special event presided over by MKU Chancellor Prof. John J. Struthers also saw the first cohort of 29 Bachelor of Medicine students graduate after successfully completing the 6-year rigorous medical doctors degree training programme.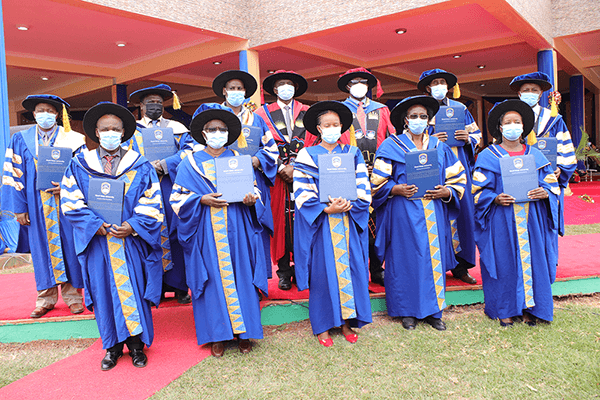 Throughout their course, the inaugural class underwent MBChB training under the regulation of Kenya Medical Practitioners and Dentist Board. They received an appreciation medical kit from the university comprising of stethoscope littmans II, pen torch, patella hammer with brush and tape measure – seca.
MKU embraced online classes and academic seminars and workshops in defenses of projects and thesis as a COVID-19 pandemic mitigation measure. This made sure that students continued with their classes uninterrupted.
The graduation theme "Equity, Diversity and Inclusion in Higher Education" comes at a time when the varsity has received UN recognition for its efforts towards reducing inequality, becoming the UN SDG hub 10.
Prof Struthers expressed his delight that the United Nations Academic Impact (UNAI) has designated MKU as the hub for Sustainable Development Goal (SDG) 10 starting July 2021 up to 2024.
MKU Foundation continues to award scholarships to needy students; Martin Owilla happened to graduate today having being under sports scholarship at MKU for his contribution into the National Rugby team. The University has also renewed its six-year partnership with the Danish Refugee Council, awarding scholarships to more than 30 learners to study at the university this year.
2021 also saw MKU secure the International Junior Nurse Fellowship by the Bradford District Care NHS Foundation Trust (BDCFT) in the United Kingdom. Senior nursing students at MKU will be competitively selected to take part in the 12-month virtual training.
Congratulations to all the graduates, we are proud of your success story.