MKU is the first private University in Kenya to be accredited by Kenya National Qualification Authority
Mount Kenya university becomes the 1st Private university to receive Accreditation by Kenya National Qualifications Authority(KNQA)
Mount Kenya University programmes were inspected by from Kenya National Qualification Authority (KNQA) in September 2020 with an aim of accrediting MKU as a Qualification Awarding Institution (QAI).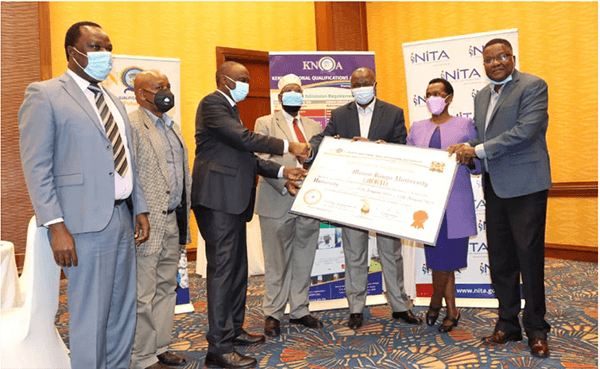 The KNQA is mandated by the government to coordinate and harmonize education, training, assessment and quality assurance of all qualifications awarded in the country; with the view to improving quality and international comparability.
MKU Programmes are already accredited by Commission for University Education and other respective programme regulating bodies and councils. After a successful inspection MKU programs qualifications have been registered by KNQA. The KNQA is part of Kenya's international commitments to develop an accurate, reliable and robust database of all qualifications in the country.
Acceptance Speech by Prof. Deogratius JAGANYI Vice-Chancellor, MOUNT KENYA UNIVERSITY
The Chief Guest, ladies and gentlemen, as a university, we at Mount Kenya University (MKU) are happy to be amongst the four institutions that are today receiving certificates of accreditations and recognition of registration of national qualifications into the Kenya National Qualifications Framework.
More specifically, as a University, in line with the Kenya National Qualifications Handbook (2018) which is available online, we are happy to be associated with the Kenya National Qualification Authority's involvement in empowering individuals through creation and maintenance of an integrated framework for learning achievements as reflected on the Handbook. The contents on the handbook resonates very well with MKU's newly bestowed status of serving as the United Nations Academic Impact SDG 10 Hub on Reduced Inequalities between June 2021 and May 2024.
We do note with great pleasure that the general principles of KNQA is to enhance harmony amongst learning.achievers from different backgrounds in education from different levels, experiential activities and geographical backgrounds.
In the same spirit, we promise to do our best in supporting the course for which we are being certified today and in dedicated service to the community both in Kenya and abroad. We commit to serve with dedication as Ambassadors of the KNQA and the ideals that the KNQA stands for.
Acceptance of the Certificate
With these remarks, on behalf of Mount Kenya University, and with utmost humility and gratitude, I submit this acceptance speech as I accept and appreciate the certification.