MKU Foundation hosts industries to a breakfast meeting
Mount Kenya University through the Directorate of MKU Foundation organized a successful breakfast meeting with 20 industries under the umbrella of the Kenya Association of Manufacturers, Central Region chapter on 21stFebruary 2019 at MKU Senate Boardroom.
This was the first of a series of initiatives meant to forge strong partnership with the industry aimed at achieving the President's Big 4 Agenda as well as enabling the University and the industry to realize their respective mission.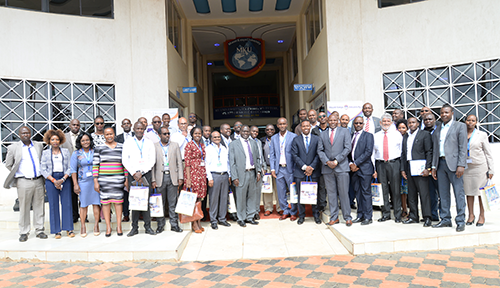 During the meeting, representatives from the industry suggested areas of possible partnership that will enhance practical-oriented training that qualifies students for the labour market and for individual transformation as envisaged in Mount Kenya University Mission.
The meeting resolved to form a technical working group that will spearhead the proposed areas of partnership and linkages that will include curriculum review, more extensive internship opportunities, and people-centred research collaboration.
The taskforce will also establish a possible direct link with the industry players, the county government, employer bodies, policy makers and regulators so as to foster the university mission.
In attendance were senior members of staff from;
BIDCO,
Kenya Nut Company,
Octane Logistics,
CentroFood Industries Ltd.,
Blue Nile Rolling Mills Ltd.,
Broadway bakery,
Bakex Millers,
Kel Chemicals,
Chania Feeds ltd.,
Capwell Industries Ltd.,
Kenya Vehicle Manufacturers Ltd.,
Dune Packaging Ltd.,
Medisel (K) Ltd.,
Green Pencils Ltd.,
Neo Kenya Mpya Ltd.,
Family bank,
Stanbic Bank,
GT bank,
Equity Bank
The Luke Hotel Cravers.
Mount Kenya University was represented at the meeting by Dr. Vincent Gaitho, Vice-Chairman University Council; Prof. Stanley Waudo, Vice-Chancellor; Dr. Bibianne Waiganjo-Aidi, DVC Academic & Research Affairs and Dr. Evans Mwiti, DVC Administration, Planning & Institutional Advancement.