MKU holds ladies empowerment forum
Dr. Jane Nyutu, co-founder led the inaugural ladies' empowerment forum on Saturday, 19th June 2021. The event which was held at Thika Main Campus was attended by top women achievers who passionately delivered talks to the students on how to overcome Covid-19 blues as well as charting their paths while studying and life after college. The University will be holding regular forums that will see regional leading women mentors address students in a move aimed at empowering the university's female students.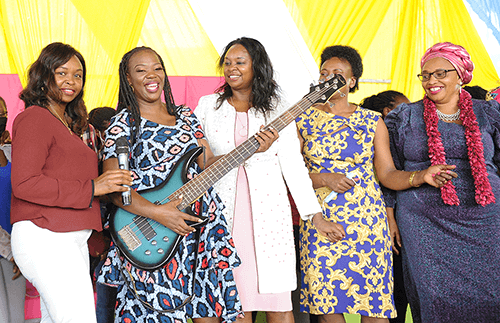 "There are all kinds of challenges that women go through and so is the case for university students. When young girls join campus, they come with expectations, energy, and different character. They may assume that campus is a paradise where there are no challenges, will meet sober friends, money will be available, friendships and relationships will last, and studies will run smoothly," said Dr. Nyutu, as she advised them to live within their means, be cautious, take challenges that they face in stride while noting that it is the nature of life to face difficulties and how one overcomes them is what matters.
"You will face all kinds of challenges including Family of origin issues, financial challenges, but be careful… think twice whenever you get offers for lunch or a drink, ask yourself whether you are ready to pay the price. "You are complete as you are… you do not need someone to come and complete you since you have great potential. Believe in yourself and get rid of gender biases that work against you," she told MKU Ladies who attended the Saturday forum." Dr. Nyutu
"The main reason why you are in campus is to achieve your career goals. However, for you to be all rounded, take time off the books at times and involve yourself in other outdoor activities that you are passionate and talented in such as sports and drama. Use the available facilities and resources at the university such as the library, gym, to stay engaged and avoid being distracted." Dr. Nyutu
Dr Nyutu, who holds a PhD in Counselling Psychology researched on the Influence that Counselling has on students' academic performance. Her thesis was titled "The Effectiveness of Counselling Services on Academic Performance and Retention Rate".
Among the speakers at the forum which was held at MKU's Thika Campus was renowned gospel musician and Tusker Project fame winner; Ruth Matete, who told the students to avoid scenarios where they have to please other people at the expense of their mental health. "We put so much pressure on ourselves… you will find many people who have this pleasing people syndrome and live for what other people think of them. They will do things that they do not necessarily like just because they want to make others happy at their expense. Try to always do what make you happy," she said
Lydia Gachungi-Kiniti who works for a leading global NGO based in Ethiopia, encouraged the female students to stay focused and avoid distractions that interfere with their studies in campus. This will enable them curve out careers after leaving the university as well as start families successfully.