Varsity held strategic plan, monitoring and evaluation workshop
The strategic plan workshop was to review modalities that will guide the university in the steady growth of the institution in line with a very robust 2020 – 2029 Strategic Plan. The participants were drawn from three committees; Strategic Plan committee, Performance Contract committee and Strategic Plan Monitoring and Evaluation Committee.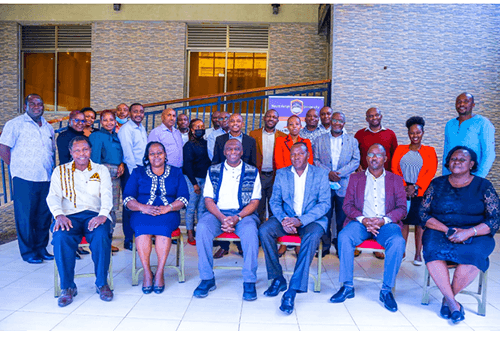 MKU 2020 – 2029 Strategic Plan was launched on 29th February 2021. At the same time, as a University, we have signed our Performance Contracts with the Officers who we report to since the beginning of this year. Apparently, to the University fraternity, these two university management components have been running on well.
In an earlier University 2020 – 2029 Strategic Plan workshop which was opened by the Chairman of the MKU Council, Prof. David Serem, Professor Serem gave an analogy of the military preparations and the vital role that such preparations play in determining the chances of winning or losing in a battle. He said that, prior to any battle, a lot of strategic planning is required to ensure all bits and pieces are well fitted together, i.e., Are the personnel well drilled for a synergetic output? Are there enough supplies? Who are in the leadership? According to Prof. Serem, these and many other questions are well answered in the process of planning for a successful military onslaught.
He, therefore, indicated that MKU University Strategic Plan is the blue print that reflects the University's commitment towards a successful undertaking despite all the odds that lie ahead.
Prof Deogratius JAGANYI, Vice-Chancellor while officially opening the workshop said that successful commencement of an activity, such as the commencement of the implementation of MKU 2020 – 2029 Strategic Plan, some emerging matters do arise that need to be addressed as we continue with the implementation. This happens during a soccer match and in all games when players are allowed to ask for a time-out to re-think of their strategy. During the brief time-out, new decisions are made and agreed upon by all to advise on a successful execution of the exercise.
Vice-chancellor made a clarion call to the participants to come up with informed strategies of dealing with any adverse emerging issues as well as ways of embracing positive emerging issues in the course of our march. "We are the Teams Captains and we have to guide our teams correctly for a successful undertaking" he said.
Let us remember our unwavering commitment towards forging MKU to the greatest success in our endeavor to serve the community through our dedicated service.
The Pro-chancellor, Dr Vincent Gaitho who is also the chairman, Strategic Plan Committee encouraged the participants to take a collective responsibility in the implementation of the 2020-2029 strategic plan and assured the team of the unwavering support from the university council and the university Board of Directors.