Delegation from Germany visited MKU School of Engineering, Energy and the Built Environment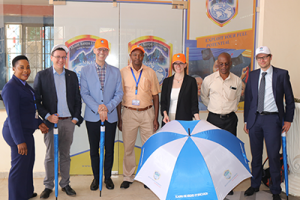 A delegation from the Institute of new Energy Systems (InES) at Technische Hochschule Ingolstadt (THI) and Hochschule Neu-Ulm (HNU), Germany, visited Mount Kenya University to foster collaboration for the recently launched DAAD-funded initiative "Network development and qualification measures based on the model of the German universities of applied sciences in Kenya".
The overall aim of this project is to inform interested Kenyan University lecturers and young scientists about the model of Universities of applied sciences and offer suitable training courses.
Besides, the link between German and Kenyan institutions of higher educations shall be established or strengthened in order to generally promote applied research and teaching methods in Kenya.