MKU welcomes new students who are abled differently
On 18th February,2022 Mount Kenya University held a welcoming ceremony for new students who are abled differently. This ceremony which aims at sensitizing and introducing those students to the university, was held at the main campus. This institution is proud of having programs to support students abled differently in their university studies. This semester, 3 students who are abled differently have been admitted to this institution since a small number of students are admitted.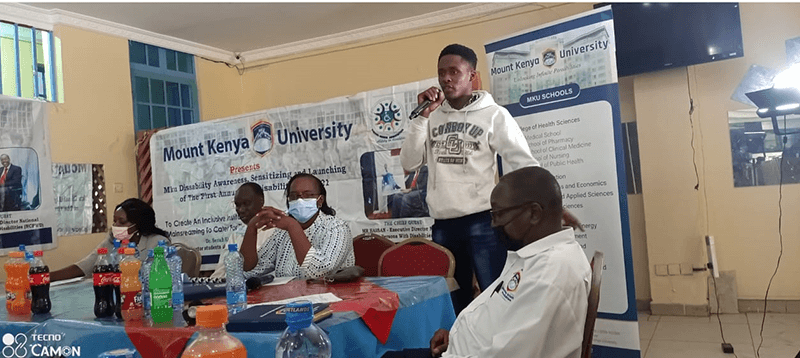 Dr.Serah Kimaru-Muchai, coordinator of the students abled differently, welcomed all the attendants, congratulated and promised the new students that they are at the right institution. She also added that they will be given conducive environment for peaceful study. She asked them not to be quiet in case of any challenges but share them out for help to be offered.
The guest speaker in this function was Dr. Samuel Kipngetich Tororei, who is a lecturer at Moi University in the department of public health. Dr. Tororei has also served as commissioner with commission of human rights and also National Land Commission. The don has been blind since he was 5 months old and thus, he is well versed with the journey of persons with visual impairment. He motivated students and urged them to put on more efforts and raise their self-esteem. He said that the society has been bringing up children abled differently as delicate vessels and those who can't do anything for themselves, this according to Dr.Tororei has obstructed a lot of them from furthering their studies. He called upon the society to bring up these kids as other kids and also avoid stigmatization. He asked learners not to fear doing any course and instead come up and compete with their fellow students. He urged the student to abled differently to improve on gaining negotiation skills instead of being confrontational. "These students who are abled differently should learn to interact with their fellow students and not to isolate themselves" said Doctor. He thanked the institution for having such programs for it is only in a few institutions that such students are considered.
This event was also attended by the co-founder of MKU Dr. Jane Nyutu who mentioned a number of efforts they are putting in place to support those students, and that a number of infrastructural advancements are underway for a more conducive environment. She also mentioned the tv program on TV47 every Saturday evening, "Beyond the Limits" that it has been giving hope to many persons who enabled differently as well sensitizing the society on issues surrounding disability.
MKUSA chairperson, Sanju Kajwang was represented by his academic counterpart Brian Kipkosgei said that as the MKUSA they are aware of the challenges the students encounter and are ready to offer any help needed, "don't fear to visit our offices, we are here to serve you" Brian promised to serve all students without biasness.
Despite there being a number of challenges still, Mount Kenya University is trying to offer quality education to these students, Mr. Were from examinations directorate said. He also narrated that the institution has made a big step in offering conducive environment, i.e allocating specific rooms for sitting for their exams and ensuring that they never miss their marks.
Others who attended the event include, Deputy dean of students Madam Purity Wairimu and coordinator of international students, Mr.Mutegi Humprey amongst others.
Article by: Dr. Serah Kimaru- Muchai, Quinto Wafula and Wilberforce Atamba