Prof. JAGANYI advises freshers in an orientation address
Mount Kenya University Vice-Chancellor Prof. Deogratius Jaganyi has called on the first year students to be prudent managers of resources as they embark on a new journey.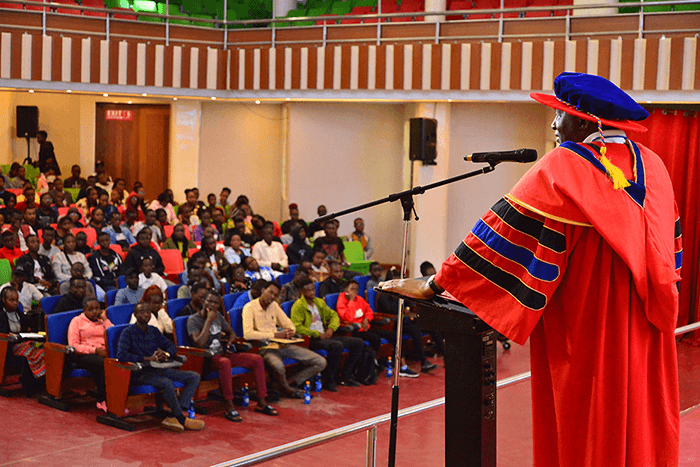 Addressing first year students on Friday, 13th January,2023 at the Mwai Kibaki Convention Centre main campus Thika, Prof. Deogratius Jaganyi tipped the freshers to have strong aspirations.
"Aspiration is a strong desire to achieve something that you value," said Prof. Jaganyi.
"You have a lot of time at Campus but you must avoid involvement in activities that do not add value to you and those that do not support your aspirations.  Remember that you are here on a specified period of time depending on your respective programmes," he said.
He urged the new students not to lose focus in order to succeed in their academic life. The Professor advised the students to make use of the available resources provided at the facility to define what they want at the end of their studies.
He said, "As a student pursuing to succeed in your career aspirations, keep your goal in mind.  The moment you lose sight of that pursuit of success your dream will start dying."
Prof. Jaganyi told the students to set achievable goals – a plan of action that will guide them to attain set goals.
"Always monitor progress of your achievements as this motivates you and keep you committed to your goal.  Remember that goals are backed by actions," he said.
He warned them that academic success has nothing to do with skill set or financial backing, but all in the mind.