Varsity marks day of persons enabled differently
Varsity is set to deepen its role in reducing inequalities in the country. MKU is set to sign a MoU with National Association of Persons Enabled Differently, a move that will help the two entities work together to enhance livelihoods for people enabled differently.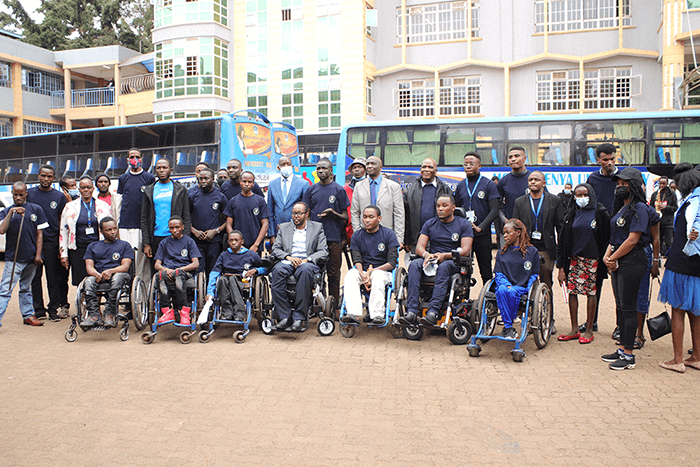 "At MKU we work hard towards reducing inequalities. There are arrangements for MKU and the National Association of Persons Enabled Differently to sign a Memorandum of Understanding to engage in further collaboration," said Prof Deogratius Jaganyi Vice Chancellor.
VC spoke during a function to mark the Day for Persons Enabled Differently at MKU Thika Campus.  He noted that the institution had adopted terms that are neutral and do not discriminate students, faculty and the general public because of their physical appearance. Terms such as people living with disabilities (or PWDs) are thus discouraged and instead "enabled differently" is encouraged.
"In our endeavour to assist the world in reducing inequalities, there are terms we avoid using such as PWDs and instead use persons enabled differently," said Prof Jaganyi.
"In the same effort, during 2019-2010 academic year in partnership with Partners for Care, MKU donated wheel chairs to Persons Enabled Differently. We also have courses and programmes that lead to empowering the general population in working and assisting Persons Enabled Differently." He continued: "We have also noted that the number of students who are enabled differently at MKU has been on the rise."
The university has recently been recognized by the United Nations for its contribution in reducing inequalities. MKU was recently designated as the global hub for championing the fight on inequalities by a United Nations agency.
The United Nations Academic Impact (UNAI) said it had bestowed the status on the University for its Documented Academic Works on reducing inequalities in Kenya, as well as the East African region. Universities that serve as academic impact hubs for SDGs are appointed by UNAI based on their innovative approaches and expertise around a particular goal.
"We are happy to acknowledge that UNAI off ice in New York has recognized our efforts in reducing inequalities by granting us the global opportunity to serve as the UNAI SDG10 – reduced inequalities hub for a period of THREE years," said Prof. Deogratius Jaganyi.